Drag Chains
Cable track, cat track, drag chain, cable chain, moving cable tray, cable drag chain, e-chain, cable and hose carrier, there are as many names for drag chains as there are applications and solutions. Linear movement in automated machinery is prevalent across almost every industry sector.
From multi-axis gantry robots, palletizing and de-palletizing machines to end-of-line packaging, the efficiency gained with automation has become the norm. The long-term, repetitive stress seen in drag chain systems requires a high level of knowledge in both cable design and system engineering.
Since there is no international standard related to the mechanical design across the various drag chain manufacturers, similar to a rectangular connector or pin and sleeve connector, it can become quite confusing for an end user or design engineer. Online configurators are convenient tools, but they don't always address the full scope of the application. Understanding the application from a high-level, systems perspective is how HELUKABEL consults on new designs with our customers.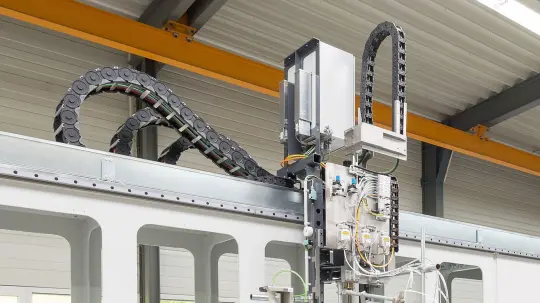 EKD Systems, a subsidiary of HELUKABEL, supplies customized, ready-to-install and assembled drag chain systems. We look forward to assisting you in identifying the best drag chain solution for your specific application and to answer any questions you might have.
Call +1 289-444-5040 or email us: robotics@helukabel.com