Here you can find information about the worldwide logistics locations of the HELUKABEL Group.
Industrial Cable Logistics Center in Hemmingen
HELUKABEL operates one of Europe's largest distribution centers for cables and wires. The majority of our 33,000 + products are stocked at our Hemmingen warehouse near Stuttgart / Germany.
Employing a just-in-time strategy, we use cutting-edge material handling and control technology to process thousands of orders from more than 40,000 pallet storage locations. In addition, our fully-automated, small-parts warehouse increases our ability to complete orders as fast as possible for our customers throughout the world.
HERE you will get an insight into the logistics center in Hemmingen through our tour.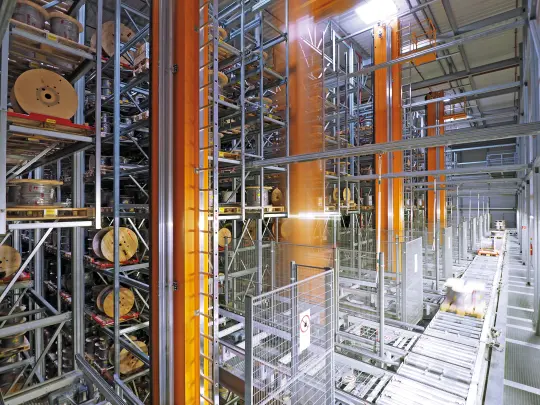 Hemmingen Logistics Center Facts & Figures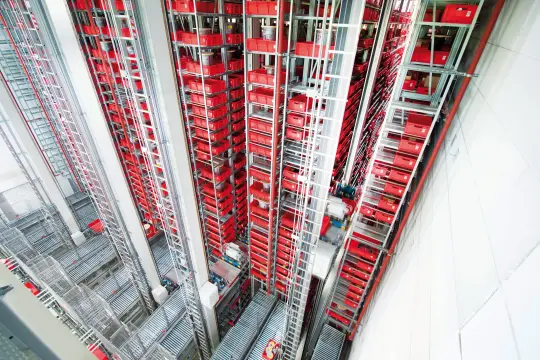 Euro-pallet warehouse
40,500 Pallet storage locations
16 Aisles with 16 storage-and-retrieval units
Cable reels up to max. 1,500 kg and max. 1.40 m diameter
Material handling systems linked directly to the cutting machines
Automated small-parts warehouse
36,800 Bin locations
6 Aisles with 6 storage-and-retrieval units each with 2 load handling devices
Output: 1,000 bins per hour
Heavy-load warehouse
670 Storage locations
1 Aisle with 1 storage-and-retrieval unit
Cable reels up to max. 4,000 kg and max. 2.20 m diameter
Materials handling systems linked directly to the cutting machines
Infrastructure Cable Logistics Center in Neuenhagen/Berlin
Short delivery times are oftentimes imperative for ground and medium voltage cables.
The Berlin warehouse capacity has been expanded to a 5,000 m² facility with approx. 50,000 m² open space. This means a significant increase to its existing large supply of ground and medium voltage cables from 1 to 30 KV, as well as infrastructure cables.
Furthermore, 5 new cutting machines with load bearing capacity of up to 10 tons provide customized service and short delivery times.
Facts & Figures
11.000 Cable drums in stock
Mechanical processing of drums up to 2,80 m diameter and 10 t weight
10 Drum rewinding machines
Cable-cutting with state-of-the-art 1.200 mm² cutting tools
24h Delivery possible within Germany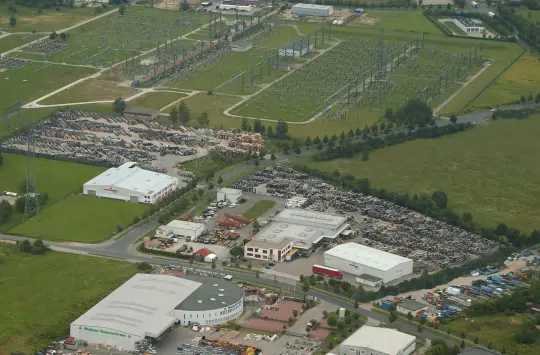 International Logistics Locations
Europe
Haid, Austria
Zellik, Belgium
Libusin, Czech Republic
Turku, Finland
Burnhaupt-le-Haut, France
Vimercate, Italy
Budel, Netherlands
Grimstad, Norway
Warsaw, Poland
Coimbra, Portugal
Bukarest, Romania
St. Petersburg, Russia
Mendaro, Spain
Järfalla, Sweden
Spreitenbach, Switzerland
Istanbul, Turkey
Ellesmere Port, United Kingdom
Africa
Gaudeng, South Africa
Durban, South Africa
North America
Mississauga, Canada
West Dundee, USA
South America
Valinhos, Brasil
Querétaro, Mexico
Lima, Peru
Asia
Shanghai, China
Pune, India
Jakarta, Indonesia
Petaling Jaya, Malaysia
Singapur
Busan, South Korea
Nonthaburi, Thailand
Dubai, UAE
Ho Chi Minh City, Vietnam
HELUKABEL - Logistics Center Expansion