Cables for Global Manufacturing Engineering Electrical Data Form 2630
The 2630 Electrical Data Form is used by all Ford Motor Company Automatic Transmission Operation (ATO) and Power Train Operation (PTO) plants around the world. Machine tool equipment suppliers must use cables listed on the specification to allow Ford to ship machines around the world without having to re-wire them, which helps reduce installation time in current and future facilities.
HELUKABEL is proud to have five of their cable families specified across control, power and motor cables for fixed, flexing and continuous-flex applications. The combination of TC-ER, PLTC-ER, ITC-ER and UL 1277 allows these cables to be used in all tray applications while still having the performance of a flexible, PUR cable. Their outstanding oil resistance (Oil Res I & II) guarantees a long service life for machine tools and industrial applications located in dry, damp and wet environments, such as those found in an automotive plant.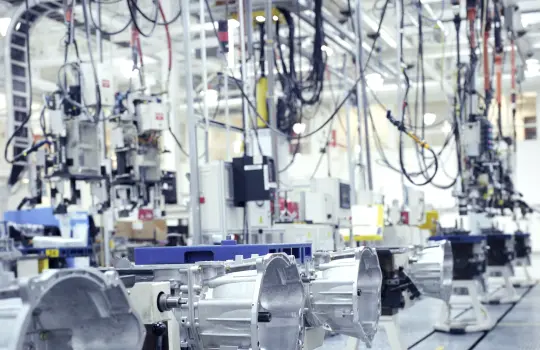 Electrical Data Form 2630 Approved HELUKABEL Products
Product Name
Product Description
Flexible, Multi-Conductor Control Cable
TRAYCONTROL® 550 TPE
Flexible, Oil-resistant, Exposed Run TC-ER, PLTC-ER, ITC-ER, NFPA 79
Heavy-Duty Motor Power Cable
TRAYCONTROL® 670 HDP
TRAYCONTROL® 670-C HDP
Flexible, Oil-resistant, Exposed Run TC-ER, NFPA 79
Shielded, Flexible, Oil-resistant, Exposed Run TC-ER, NFPA 79
High-Flex, Multi-Conductor Control Cables (C-Track Rated)
MEGAFLEX 650
High-flex, Oil-resistant, Exposed Run TC-ER, PLTC-ER, ITC-ER, NFPA 79
High-Flex, VFD/Motor/Servo Cable (C-Track Rated)
TOPSERV® 600 VFD
XLPE Insulation, EMC-preferred Type, Highly Flexible Motor Power Supply Cable, Oil-resistant, NFPA 79 Ch. 4
TOPSERV® 650 VFD
XLPE Insulation, EMC-preferred Type, Highly Flexible Motor Power Supply w/ Control Conductors, Oil-resistant, NFPA 79 Ch. 4