Factory Floor Applications
See how cables, wires and accessories are used in various areas of industrial automation.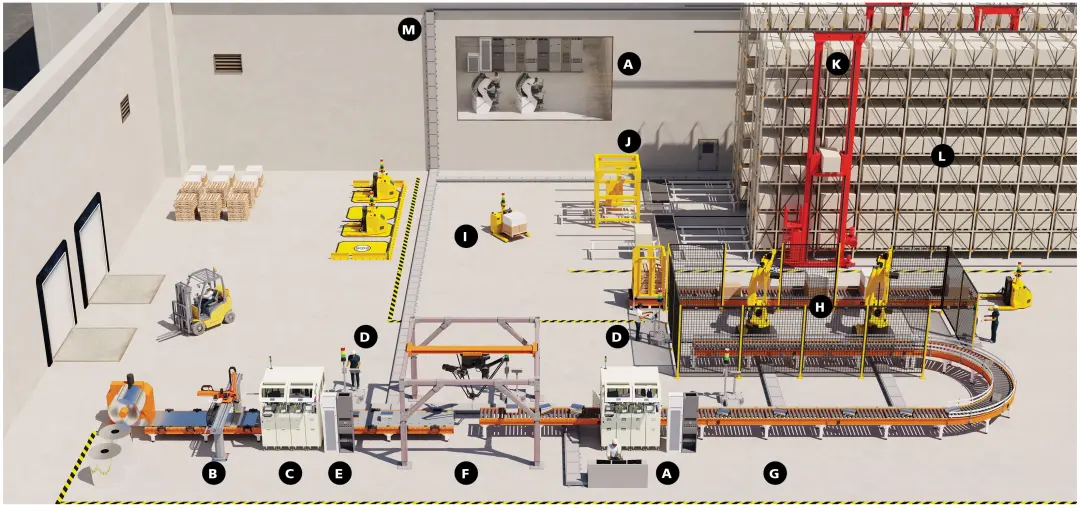 Factory Applications
A - Control Station

Key point for controlling and monitoring manufacturing and logistics processes.

[1] [5] [6] [8] [9] [12]
B - Laser Cutting Machine

System for separating workpieces using laser radiation.

[1] [2] [4] [5] [6] [7] [8] [9] [12] [13] [14]
C - Machining Center

Machine tool containing several functions such as turning, milling and drilling.

[1] [2] [4] [5] [6] [7] [8] [9] [10] [11] [12] [13] [14]
D - Control Panel

Stationary or mobile device with display and/or keyboard for operating machines and systems.

[1] [3] [6] [8] [9] [11] [12]
E - Switch Cabinet

Contains all electrical and electronic components that are not directly installed in the machine or system.

[1] [2] [5] [6] [7] [8] [9] [10] [11] [12] [14]
F - Pick & Place Area

Device that independently grips, sorts and places goods or workpieces.

[1] [2] [4] [6] [7] [8] [9] [13] [14]
G - Conveyor System

Stationary conveyor system for transporting various goods or workpieces.

[1] [2] [5] [6] [7] [8] [9] [10] [11] [12]
H - 6-Axis Robot

Articulating robotic arm with six axes of movement for carrying out a wide range of movements and tasks.

[1] [2] [3] [4] [6] [7] [8] [9] [10] [11] [12] [13] [15]
I - Automated Guided Vehicles

Mobile transporter with its own travel drive, which is automatically controlled and guided without contact.

[1] [2] [5] [6] [8]


J - Labeling Area

Used to apply barcodes or labels to goods and workpieces.

[1] [4] [5] [6] [8] [9] [12] [13] [14]
K - Stacker Crane

Rail-guided, single-track vehicle used to store and retrieve goods in a high-bay warehouse.

[1] [2] [4] [5] [6] [7] [8] [9] [12] [13]
L - High-bay Warehouse

Storage area with permanently installed shelving units where goods or workpieces are stored vertically.

[1] [2] [4] [5] [7] [8] [9] [12]
M - Cable Trays

Load-bearing structure made of sheet metal or plastic for routing and protecting cables and wires.

[1] [2] [5] [11] [12]

HELUKABEL Solutions
[1] Data Cables (Bus/Ethernet/Fiber Cables)

[2] Drive Cables (Servo/Feedback/Hybrid)


TOPFLEX®, TOPSERV® & TOPGEBER®

[3] Robotic Cables

[4] Drag Chain Cables


HELUCHAIN®, MULTIFLEX 600, MULTIFLEX 512®, MULTISPEED®, SUPERTRONIC®, SUPER-PAAR-TRONIC-C-PUR® & Single 602-RC

[5] Machine & Facility Infrastructure Cables


HELUPOWER®, HELUCONTROL®, HELUDATA®, MEGAFLEX®, TRAYCONTROL®, FIVENORM,
HELUTHERM® & Single 600

[6] Pre-assembled Cables (Data/Drive Technology)


RJ45, M12 & M8 Patch Cables, OEM Servo Motor & Feedback

[7] HELUKAT® Data Connectors
[8] HELUTEC® Circular Connectors
[9] HELUTOP® Cable Glands
[10] Grounding Components


EMC glands, copper grounding straps

[11] Conduit & Protective Tubing

[12] Tools & Accessories
[13] EKD Systems Drag Chains
[14] SANGEL® Systemtechnik - Industrial Luminaires
[15] Robotic Dress Packs