Grocery Shopping at the Click of a Button

The newest and most exciting market in the Goods to Persons (GTP) space is online grocery shopping, which has experienced rapid growth around the world in recent years.
Traditional industrial automation suppliers are all gearing up to support and service the major players including Amazon, Walmart and Kroger, among others. These premier companies are all building grocery distribution facilities in the continental US to offer convenient grocery shopping options from the comforts of home.
While a majority of automation equipment suppliers are re-calibrating conveyors, pick and place systems, and other assorted machinery, a newer more interesting concept uses terms such as Shed, Grid and Hive as system names.
Properly receiving, sorting and stocking packaged goods as well as fresh meats, poultry, vegetables and fruits play an important role to ensure products are moved to the correct storing environment before they are sent on their way out. Packaged and canned products are easily stored in ambient climate locations within the facility while sensitive perishable goods are moved to climate-controlled and chilled locations.
Fruits and vegetables receive further special considerations to avoid damage caused by incorrect storage and handling. To ensure separation and eliminate cross-contamination the grocery goods are separated in uniquely colored bins that are designated by what category they fall into.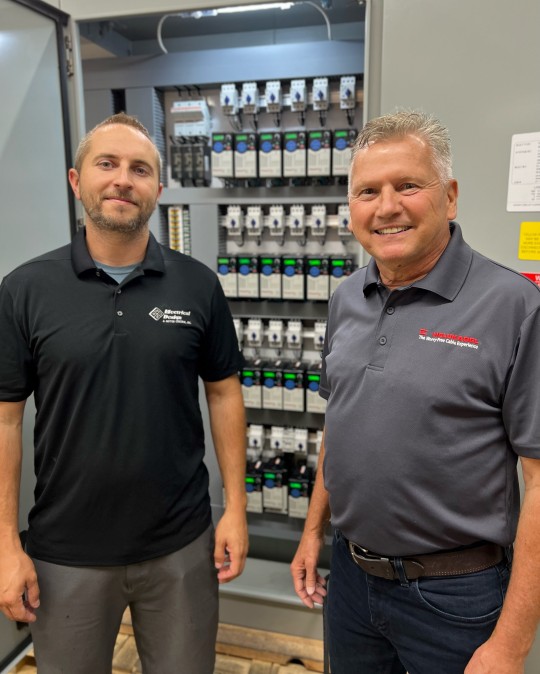 Evan Pierce (L) and Ralf Jung (R) stand in front of a control panel that regulates the special plenum grid EC axial fans used to control warehouse temperatures. (Photo Credit: EDMCI)
The climate-controlled, perishable goods storage locations pose extra considerations not just for the goods but also for the factory components used in those areas. State-of-the-art industrial cooling fans with full temperature controls are necessary to maintain the correct temperatures throughout these sensitive environments. According to Evan Pierce, Project Manager for Electrical Design and Motor Control (EDMCI) based in Roseville, California, the need for correctly integrating special plenum grid EC axial fans is essential. Maintaining the high air performance and higher static pressure characteristics of the fans is a key focus.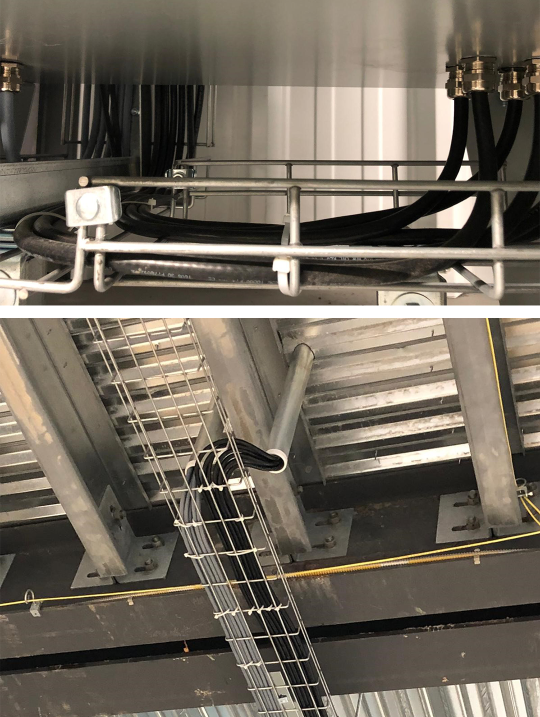 The TRAYCONTROL® 600-C is run throughout the warehouse in wire trays before transitioning to pipe for more enclosed routing and subsequent termination in control panels located throughout the facility. Cable performance is optimized by using HELUTOP® MS-E EMC glands to help minimize electrical noise as the cables enter the panel. (Photo Credit: EDMCI)
To power these high-performance fans EDMCI uses the TRAYCONTROL® 600-C, a shielded, multi-conductor control and power cable from HELUKABEL. What made the TRAYCONTROL® 600-C stand out from other options considered for this application were its approvals – tray cable exposed run (TC-ER), 600V rating (UL 1277) – as well as the wide temperature range this cable series provides (-40°C to +105°C ). Although not in direct contact with perishable grocery items, the added bonus of having ECOLAB® approval also made it favorable to its selection for this application.
To obtain optimal speed reference and control for enabling on/off, TRAYCONTROL® 600-C was also the cable of choice. The lower voltage DC inputs (between 0-10 volts) utilize the integrated tinned copper, braided shield with 85% coverage to protect from EMC noise while still maintaining flexibility when tight cable runs are required.
Since multiple site projects require product consistency, HELUKABEL's TRAYCONTROL® 600 series was selected not only for technical reasons but also for additional considerations such as in-stock availability, product and design quality, and having the required approvals such as the appropriate fire ratings that are typical of TC-ER series cables, along with UL and European Union approval markings.
HELUKABEL's quick-responding customer service, in addition to local and international technical support, were also important considerations for the life of the installations. "A secondary and very important aspect to customers," adds HELUKABEL Regional Sales Director Ralf Jung, "is that our global logistics network ensures that the required cables can be sourced at the local level for any future MRO requirements no matter where the GTP facility is located."

Electrical Design and Motor Control Inc. is a full-service provider for control system integration that has been changing the material handling industry for over 30 years. They have completed over 3,000 projects for a diverse base of clients ranging from distribution to food processing to bottling, among many others. For more information, visit www.edmci.com.
Back