"IT should support all company processes"
Digital technologies have long since become indispensable to HELUKABEL. Whether in production or logistics, product development, purchasing or sales: IT is finding its way into more and more processes - with the aim of making them faster, simpler, more flexible or more transparent. In an interview, Chief Information Officer (CIO) Philipp Müller-Sohnius explains what makes this field of work so exciting and what challenges have to be overcome.
Mr Müller-Sohnius, as Chief Information Officer (CIO), you're in charge of strategic and operative IT at HELUKABEL. How long have you been doing this job and what 's your career history to date?
I actually studied physics but have never worked in this field. After university I worked as a development engineer at a software company and ended up in their IT department via product support. It was my first job as a CIO. I stayed there for 10 years and then had various IT jobs in the automotive parts industry during the next 14 years. In April 2021 I joined HELUKABEL. I really wanted to get experience in a new industry. It might not seem immediately obvious but the requirements and processes for IT can vary greatly depending on the business.
What are your specific tasks as CIO? What's your typical working day look like?
The main job my team and I do is make sure HELUKABEL uses the "right" IT, i.e., that it has the systems, platforms, partners and services it needs to support all company processes in the best possible way. A lot of communicating is needed to do this: We take a formal and an informal approach when we advise, discuss and hold presentations with departments, external partners and executive management. The main thing is that we engage with each other on the same level. I set a strong priority on finding out how each department works so we can implement the IT best suited to its daily working practice. We often act as a conduit between business and technology, to make sure we understand each other.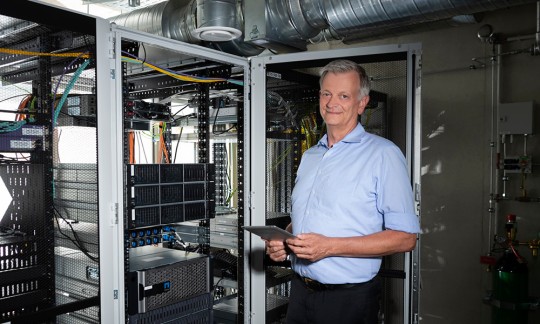 Philipp Müller-Sohnius is Chief Information Officer (CIO) at HELUKABEL.
Digitalization and networking are now firmly established in all areas of business. What risks and opportunities do you see here?
I believe there's no alternative to digitalization. A company must keep up with the market in order to not miss the boat and stay competitive. New technologies allow us to automate more and more tasks – and this is absolutely necessary, bearing in mind the current skills shortage! In the future, there won't be enough people to do everything manually. And another benefit: Through IT and the resulting improvements in transparency, we are able to make quicker and better decisions about how to manage the entire company. A major challenge is getting people on board. In our private lives, we don't think twice about letting our smartphones do lots of everyday tasks for us. By contrast, many people find it strange and unsettling at first if IT suddenly takes over jobs. Many professions will be transformed by digitalization and many new professional fields will emerge. During this transition it's important that people always realize that IT is a value-add and not a job-killer!
Everyone's talking about cybersecurity these days. What are the threats of these types of attacks and how can companies protect themselves against them?
As use of digitalization grows, so does the risk of cyber attacks. Criminals can attack over great distances via the Internet with minimal risk and effort. My job is becoming more and more dominated by cybersecurity and its impact is everywhere – that's a big change compared to a few years ago. All systems and components must be safe and stay safe. There is a flourishing business model behind cyber attacks these days. For example, criminals steal company and personal data, extort ransom money from the affected companies and even operate their own service centres to help these same firms get back on their feet after an attack. Cybersecurity is an ongoing battle in which the goalposts keep moving. When one security gap is closed, another one opens up, so no one is ever entirely safe. Even IT manufacturers are unable to guarantee security because of the quantity and complexity of the software. Humans are another potential vulnerability: every mistake, for example a careless click, can be fatal. It's a fine balancing act adequately sensitizing staff to the dangers without going overboard.
The Covid crisis led to a rapid boost in digitalization in many areas, for example, working from home and remote working. Will this continue in the near future?
It seems to me that the technology has changed faster than the work culture in many companies. Remote working received an enormous boost during the pandemic – and it's here to stay because the necessary technology exists and lots of jobs can be done easily in the remote office. Companies now must decide how much working from home is acceptable. How important is it that staff come to the office? How can I ensure they identify with the company and colleagues? Working from home changes interaction with the company and requires some new management concepts. It's up to companies to find the right way forward. I think more work will be done from remote offices in future. For example, it will be possible to fill in and send requests using smartphones. A lot of people in our IT department already work from home. Because we were ahead of the curve, we've been focusing on topics such as remote support for international subsidiaries for a long time, for example.
A sector as dynamic as this one needs experienced and well-trained professionals – people that are desperately sought after, particularly in IT. How are you managing this shortage?
I'm expecting this skills shortage, which has existed in IT for a long time, to worsen and impact other departments in the next few years as well. At HELUKABEL, recruitment is the starting point for dealing with this: We try to process applications quickly and decide within 24 hours whether we want to invite an applicant for an interview. We work closely with the personnel department, who has recognized the signs of the times and are very flexible and open to new ideas. In our role as a Hidden Champion, we offer employees a diversity of exciting tasks and plenty of creative freedom. We have the full backing of management to build the "IT of the future" here at HELUKABEL. I've never experienced this at any other company. The executive directors and managerial staff are accessible and responsive, for example they often eat in the cafeteria and personally introduce themselves to new staff. As a family-run company, we are not driven by the financial markets and quarterly results. Instead, we place great emphasis on stability and safety. With 61 sites in 39 countries, we also operate in a very international environment – hence we don't need to hide behind big multinationals with illustrious names. We're not a just somebody, we're HELUKABEL – and we're truly proud of it!
Back