Featured Material Handling Cabling Products
Whether it be conveyors, robotics, or automated storage and retrieval systems, HELUKABEL offers a wide variety of stationary, flexing, and continuous-flex cables, as well as high-performance data, network and bus cables for any bulk handling application. HELUKABEL's portfolio of products provides its customers with cables that will last for multi-million cycles, meet the proper domestic approvals, and can be installed in very tight spaces or severe environments.
For quick navigation, please select from list below: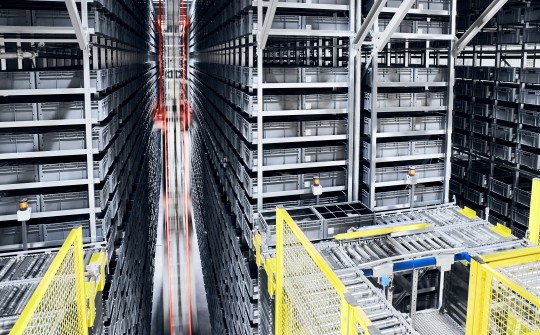 If you are unable to find a product you are looking for, please contact +1 289-444-5040 or sales@helukabel.ca. We look forward to assisting you in identifying the best products for your specific application and to answer any questions you might have.
VFD Cables
XLPE Insulation, EMC-preferred Type, Flexible Motor Power Supply Cable, Oil-resistant, NFPA 79 Ch. 4
XLPE Insulation, EMC-preferred Type, Flexible Motor Power Supply w/ Control Conductors, Oil-resistant, NFPA 79 Ch. 4
XLPE Insulation, EMC-preferred Type, Flexible Motor Power Supply w/ 3 Symmetrical Ground Conductors, Oil-resistant, NFPA 79 Ch. 4
XLPE Insulation, EMC-preferred Type, Highly Flexible Motor Power Supply Cable, Oil-resistant, NFPA 79 Ch. 4
XLPE Insulation, EMC-preferred Type, Highly Flexible Motor Power Supply w/ Control Conductors, Oil-resistant, NFPA 79 Ch. 4
Power
Motor and Servo Cable w/ No Control Pairs
Motor and Servo Cable w/ 1 Control Pair
Motor and Servo Cable w/ 2 Control Pairs
Feedback
Hybrid
Power
Motor and Servo Cable w/ No Control Pairs
Motor and Servo Cable w/ 1 Control Pair
Motor and Servo Cable w/ 2 Control Pairs
Feedback
Hybrid
Continuous-flex, Oil-resistant
Continuous-flex, Halogen-free, EMC-preferred Type
PVC Jacket
1000V, +80°C, Shielded, EMC-preferred Type
Continuous-flex, Oil-resistant, Exposed Run TC-ER, PLTC-ER, ITC-ER, NFPA 79
Continuous-flex, Oil-resistant, Shielded, EMC-preferred Type, Exposed Run TC-ER, PLTC-ER, ITC-ER, NFPA 79
PUR Jacket
Halogen-free, Shielded, EMC-preferred Type
Halogen-free, Shielded, EMC-preferred Type, NEK TS 606
Data, Network & Bus Cables