Blankets Make Everything Comfortable... Even Product Supply!

Automation has seen a major shift in adoption in the last few years, none more than in the material handling space as retailers adjust their sales strategies from providing goods solely to their brick-and-mortar locations but directly to the customer via online sales. This has led to an increase in building fulfillment centers that rely heavily on automated material handling and logistics systems ranging from conveyors and automated guided vehicles to pick-and-pack robots.
For the manufacturers of the material handling systems, this has been a challenge because it has tested the strength of their supply chains. Recently a large, global systems manufacturer in the Southeastern United States that partners with customers in the healthcare, textiles and fashion, trade, e-commerce and omnichannel retail, food retail and production spaces teamed up with HELUKABEL to help solve challenges they were seeing in their cable supply chain, a vital component to keeping their machines operating at peak performance.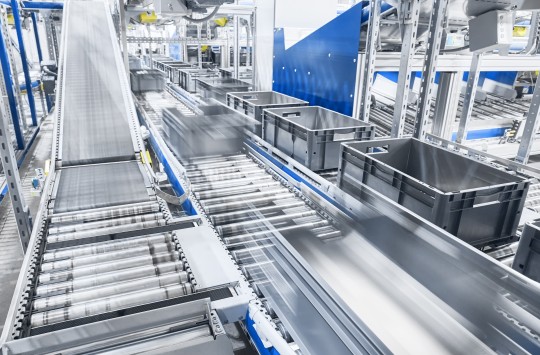 Modern conveyor systems would be not be able to get goods from point A to B within a facility without the proper power and data cables sending the signals needed to direct packages to the right locations.
In previous years, the manufacturer relied on its contractors to procure all the materials necessary to install the equipment at the customer's site. However, due to the current business climate combined with more complex and tightening supply chains, relying on contractors to take on the risk of securing material using blankets was becoming problematic.Given that organizations are always searching for partners that improve material lead time, while still providing quality products and services, the material handling manufacturer sought to work with a cable supplier that could provide products on time, when they needed them.
With the focus on new facility construction, the manufacturer needed large volumes of flexible control power cables to be able to connect machines to control panels throughout the facility. This requires the use of cable products that can be installed in cable trays or conduit, and for instances where neither option is ideal, can be exposed as it leaves the tray or conduit to reach the machine. Having shared this information with the HELUKABEL USA team, it was easily determined that the best products for this type of application were the TRAYCONTROL® 500 and 600 as well as their shielded variants the TRAYCONTROL® 500-C and 600-C .
These 600/1000V-rated cables use Class K-stranded copper to enhance their flexibility, compared to Class B-stranded cable, and therefore are easier to install in tight areas. The additional exposed run (-ER) approval means that they can connect to equipment – unprotected – up to six feet from where the tray is located, which is ideal if the warehouse or logistics facility ever needs to be reconfigured in the future. For areas where automated machines that are more sensitive to the effects of EMC are located, having a shielded cable option that provides approximately 85 percent coverage helps minimize the risk of signals being distorted and machines malfunctioning due to excess electrical noise being generated during facility operations.
Working with the HELUKABEL sales team to understand inventory levels and lead times, this particular material handling system manufacturer decided it was in their best interest to procure the material for each project and have it drop shipped to each installation site. Knowing all of their projects for 2023 and the cable volumes needed, they quickly realized the benefit of placing a blanket order with HELUKABEL USA to secure their material. It made a lot of sense to them because they consistently use the same material on all of their projects – four conductors, ranging in size from AWG16 to 4.
Some advantages of placing blankets include:
Locking copper prices – with the volatility of the copper market, knowing your costs ahead of time allows for projects to stay on target
Minimal processing time – no need for multiple purchase orders for each installation site which frees up manpower and overall administrative work
Vendor base consolidation – allocate internal resources which would otherwise be needed to negotiate terms and conditions with new suppliers.
Volume discounts – buying in bulk drives overall material costs down.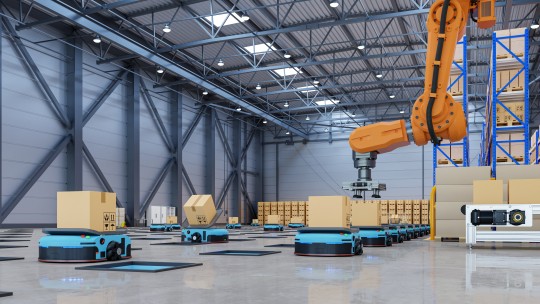 Fulfillment centers rely heavily on automated material handling and logistics systems ranging from conveyors and automated guided vehicles to pick-and-pack robots.
The systems manufacturer continues to use contractors to install their equipment onsite, but they are letting the contractors focus on the construction while they manage the delivery of all materials when they are required. There is no need to bring material to their warehouse for temporary storage since the material will be released and drop shipped at no extra charge to each installation site from HELUKABEL USA's warehouse outside of Chicago, IL. Moving to this new model, projects will now start and end on schedule, which will save time and money for them and their clients making everyone feel much more comfortable!
ARTICLE DOWNLOAD
Click here to view this article in our digital download centre.
Back