Q&A With HELU: Cables for Roller Coasters
We discuss the roller coaster market and some of the challenges that exist for cables used on these thrill machines.

A major attraction to many amusement parks are the roller coasters that provide some of the most thrilling excitement. Designed with tight turns, steep slopes, inversions, and sometimes high speeds, there are new rides with the latest features being added every year as parks try to attract riders with something unique.
Amusement parks use the slow season to their advantage when they decide to rebuild or replace rides with new and more exciting ones. Roller coasters are continuously being designed to go higher, faster, or even provide animation to draw passengers to the parks. Some rides may only last for 30 seconds, but if they stop running for any reason downtime is not acceptable to the park or the customer's satisfaction. It's imperative to make sure the ride stays running by specifying quality cables from the ride design stage. HELUKABEL has worked with many of the top ride manufacturers around the world to offer cables that will function properly for the life of the ride. On-site at the park, we support the maintenance teams to get the ride back online should there be a cable issue.
We recently asked Neal Allen, Vice President of Engineering, about the roller coaster market and some of the challenges that exist for cables used on these thrill machines.
Q: What cable regulations are there for roller coasters and other theme park rides?
A: Roller coasters are considered machines by the National Electric Code (NEC). Therefore, in most states within the US, cables installed at a park must comply with NFPA 79, also known as the Electrical Standard for Industrial Machinery. These codes dictate the proper approvals required for the cables based on application usage, as well as the proper wiring and installation practices to ensure there are no issues with local jurisdiction before ride activation.
Q: What are the biggest challenges for cables used in these applications?
A: In most cases roller coasters are outdoors, so resistance to ultraviolet (UV) radiation and sunlight are crucial. Cable jackets must not dry out and become brittle or susceptible to cracking/breaking over time. Furthermore, new wiring practices have migrated away from wiring in conduit, often referred to as pipe and wire, to open wiring systems, which use cable trays to contain, protect and route the portable wiring and cables from the control room to the motors, sensors, and controls located on the coaster. Since cable trays tend to be open or exposed, the use of outdoor and tray-rated cables is a requirement in these applications to prevent the cables from cracking due to UV radiation or propagating fire when in the cable trays, for example.
The other challenge is that many new designs contain more sophisticated control and safety devices that require special bus data cables. Many of these cables were originally designed to function only when installed in short lengths. However, the longer install lengths that are associated with roller coasters are pushing these cables past their originally intended function. Provisions need to be made in during the installation process to accommodate these longer runs and testing may be required to ensure they are working as expected.
Q: What is changing from the control's perspective?
A: The controls side of these rides is becoming more reliant on programmable logic controllers (PLC) and bus cables. The automation is incredible with the new high-tech rides, so it is important to have more controls, sensors, and high-speed data transmission for feedback. Additionally, data cables are becoming more prevalent within cable trays as connectorized assemblies instead of being hard-wired through conduit. This requires a power limited tray cable (PLTC) or Communications Multipurpsoe (CM) rating, per UL. Installing in the tray combined with pre-assembly allows for quick change-outs during planned or emergency maintenance scenarios.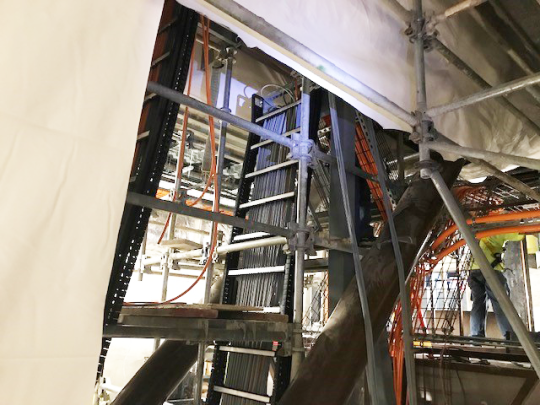 Cables for a roller coaster being installed in a drag chain and routed in wire basket cable trays.
Q: What is the future of amusement park attractions?
A: Roller coasters and 4D simulator rides are both very popular attractions at theme parks. Most 4D simulators, which combines 3D film with special effects and full motion seating, are being manufactured in Asia. They take up less real estate in the park and because they are enclosed, they are not affected by inclement weather. However, there is nothing like the actual thrill of a roller coaster. Recent new attractions at theme parks are now including a hybrid model i.e. a mix of 4D and the roller coaster. A new ride in Orlando goes up to 50 MPH and has over 1,200 motors to drive the coaster. Along the ride, the riders stop at seven different locations where a 3D animation plays in each pavilion during the slow down. It was recently voted as "The Best Coaster in Orlando". I think this style of ride may be a direction for roller coasters in theme parks that have the resources to make it happen.
Q: What challenges must be overcome with these hybrid coaster models?
A: On the roller coaster project in Florida, we saw the future advancements in ride technology. Unlike the standard coaster, which uses a motor that pulls the occupant up to the highest point and uses gravity the rest of the way, this ride has seven different launch sections and a 16-foot drop section. More motors mean more cables and controls, as well as special continuous-flex cables that were required to move with the track section as it articulates up and down. These are very unique cables that run almost 19 hours a day, every day of the year!
Q: What makes HELUKABEL so successful in the roller coaster market?
A: In 2019 HELUKABEL provided cables for seven roller coaster rides that were brought online in the US. We were successful in doing that many because we have a vast portfolio of over 33,000 products to choose from and a team that knows the right products to use from our over 40 years of experience supplying industrial cables. Working with all parties involved – park owners, manufacturers, contractors, maintenance department, and electrical distributors – from initial engineering to on-site technical support kept everyone on the same page about what was needed. Finally, we can stage bulk cable or cut-to-length, so that the entire project's order is delivered on time and in full so the coaster's construction and inauguration at the park's next season can stay on schedule.
ARTICLE DOWNLOAD
Click here to view this article in our digital download centre.
Back