UL Approved Data Cables up to 600 Volts
Why users are demanding higher voltage ratings

Data cable users are increasing their demand for cables that meet Underwriters Laboratories (UL) voltage specifications and approvals. However, data cables are not designed for the transmission of heavy current or used for this purpose in application. The reason for this trend is the result of how cables and wires are being installed – in cable trays.
Cable trays are mainly used in building infrastructure, but also in mechanical engineering and industrial automation throughout manufacturing plants. They are the support structures for cables and electrical wires, and are usually made of steel, plastic or stainless-steel sheets. The trays frequently have several channels where installers can lay cables for different functions and voltages separately from each other. Between the channels are shielding plates to avoid interference, e.g. electromagnetic waves. Depending on the installation conditions, the cable tray can be part of the machine's internal cabling or part of the building's cable network, which is determined by the UL inspector, also known as the Authority Having Jurisdiction (AHJ).
When new data cables are laid in the manufacturing plant with an existing cable tray network, the possibility that a relevant channel is not intended for data cables or already fully occupied might occur. In this case, the installer inevitably must lay the cable in the next available channel, where there are often power cables with up to 600 volts, and in rare cases even 1,000 volts.

Same Voltage for Cables Laid Together
The above situation is where the UL standard that requires all cables laid in a cable tray channel must have the same voltage enters the picture. Although a data, sensor or bus cables never operate at 600 volts, the voltage rating must appear on the cable legend. Otherwise, the inspector may refuse approval, or the installer will have to use a protective conduit or replace the cable in order to obtain an approval from the certification company. However, UL Standard 444, which usually applies to building cable, explicitly prohibits the printing of voltage information on communication cables – a fact that contradicts the wishes of users, who are increasing their demand for this information.
In order to meet the requirements of its customers, HELUKABEL is able to provide its Industrial Ethernet cables with additional UL certifications, known as Appliance Wiring Material (AWM) styles. AWM, which is UL recognized and originates from machine and device cabling, ensures the desired higher voltage capabilities of the cable, and allows for the corresponding imprint, which is required to indicate approval. However, this still does not permit users to lay data cables together with power cables. UL approval only includes a voltage test, but not an electromagnetic compatibility (EMC) test. Therefore, despite the extended certification, data and power cables should be laid separately or at a distance, if possible. If a joint installation is unavoidable, e.g. for space reasons, the installer should carry out an EMC test in order to avoid any possible interference.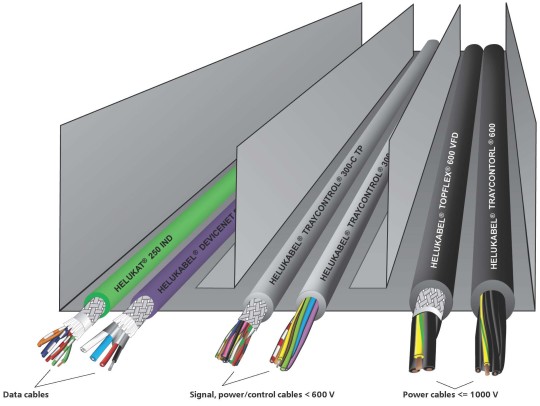 Inside the Cable Tray - When possible, cables should be laid in the cable tray channel with the same voltage.
UL Specifications also Required for Machine Cabling
Whether a cabling system is for a machine or a building, the inspector decides the standards that apply. In machine and plant construction, drag chains are often used for laying both power and data cables, in this instance they are nothing more than a mobile cable rack.
However, UL does not have a fixed standard for the configuration of drag chains and much is left up to the discretion of the inspector.However, in recent years about 30 percent of UL inspectors have transferred the requirement for the same voltage rating from cable trays to machine cabling and drag chains. It is important to note that if cables have not been laid separately or cannot be laid separately, the cables should have the same voltage rating printed on the jacket. This further increases the demand for higher UL voltage approvals on data cables.
With its comprehensive portfolio of data, network and bus cables, which are approved according to both UL 444 and AWM, HELUKABEL recognizes the need for enhanced voltage approvals, and offers the optimum solution for every application - including the voltage required by a specific UL standard.


One of the things HELUKABEL has done is to provide its Industrial Ethernet cables with the additional UL certifications — AWM styles — that allow the printing of the voltage specifications to be present in the cable legend on the jacket. (© HELUKABEL)
Back